In the first episode of the OAC newsletter for 2018 we cover:
Recruiting a Fundraising & Outreach Coordinator (paid contract position)
For the first time in the OAC's history, and with the support of MEC, we are looking to hire someone to help us advocate for climbing access in Ontario. Our Fundraising & Outreach Coordinator will primarily develop sponsorship and business relationships with OAC stakeholders and participate in community outreach. The OAC has always been a volunteer-based organization, but as our role in the climbing community has grown and we've become more established, we have recognized the need to have a member dedicated to ensuring our continued success.  The ideal candidate is proactive, organized, and detail-oriented with an entrepreneurial mindset. This is a contract position. For more information, see the job posting at https://www.ontarioallianceofclimbers.ca/climbers/careers/. For full consideration, apply by May 11. We look forward to working with the successful candidate!
Successful Movie Night: Dirtbag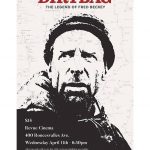 A sold-out crowd enjoyed our April 11 screening of Dirtbag: The Legend of Fred Beckey. Thanks to everyone for coming, Mike Makischuk for organizing the event, and our sponsors (MEC, Arc'teryx, Patagonia, Boulderz, Gripped Magazine, and DMM) for supporting the event. Together, we raised over $3000 to support Ontario climbing access. We hope to see you at similar events for future climbing films.
Beaver Valley Climbing Festival & Logo Competition
Mark your calendars now: this year's Beaver Valley Festival is going down July 20-22nd!  Join us up at the Rob Roy Dogsled Farm again as we celebrate climbing in Ontario with the year's biggest party, headlined once again by Ariana Gillis.  Food, raffles, clinics, and an all around good time are to be had—in addition to some fantastic climbing of course!
We're also holding a contest to redesign the Beaver Valley Festival logo. The winner will receive free admission to the festival for TWO—so you can bring your belayer!  The submission deadline will be May 21st. More details to come soon.
Crag Stewardship Event at Rattlesnake Point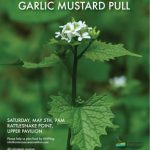 Coming this Saturday, May 5: our annual Crag Stewardship Event at Rattlesnake Point. This is your chance to give back to the climbing community and help keep Ontario free of invasive species. Climbers' past efforts have greatly reduced the amount of garlic mustard, an invasive species, around this climbing area. We hope you can join us to celebrate Earth Day. We'll be providing a BBQ lunch, and the cliffs will be available all afternoon for climbing. For more information: https://ontarioaccesscoalition.com/climbers/events/garlic-mustard-pull-2018/
Upcoming Events
May 5: Crag Stewardship Event with Conservation Halton at Rattlesnake Point
June 21: OAC Annual General Meeting, location to be determined
July 20-22: Beaver Valley Climbing Festival