Beaver Valley Climbing Festival 2018
For any inquiries related to clinics, including registration, please contact the clinic provider directly.
Fear of Falling Clinic
by Overhang Adventures
Afraid of falling while climbing? So were we! Until we spent years getting over our fear of falling. Now we will work with you to help you get over yours.
Join us for this 3-hour condensed version of our 1-day course where we work with you towards giving you the skills to make decisions about the safety of a potential fall, how to best catch and receive falls, and making you in control of your climbing instead of being subjected to your fears.
Limited spaces. Sign up early.
When: Saturday, July 21 & Sunday, July 22 (see Overhang Adventures for more details)
Cost: $30
Location: The Swamp
To Sign Up: Register through Overhang Adventures' website.
Caving at Metcalfe Rock: FULL
by Free Spirit Tours
Get ready to explore the underworld. We go in with helmets and headlamps – and climb and crawl our way through a variety of crevices and caves. Don't worry if you have never caved before, we teach you everything you need to know!! This activity does require some physical ability but as mentioned before – total beginners are fine doing this!
What to wear: Layered clothing with a long sleeve top or hoodie. Clothes you don't mind getting wet & dirty! Long pants are recommended.
What to bring: Water to drink (in a day pack so it's easy to carry) and a camera!
When: Saturday, July 21, 1pm-4pm – one time slot available (4-10 people)
Cost: $20
Location: Meeting in the parking lot of Metcalfe Rock
To Sign Up: Now full. E-mail freespirittours@hotmail.com to register.
On The Rocks Climbing Guides
All clinic participants meet at Metcalfe Rock Parking Lot 15 minutes prior to clinic start time.
To Sign Up: info@ontherocksclimbing.com / 705 888 8723
Introduction to Crack Climbing with Yonah Obadia: FULL
Learn the fascinating art of crack climbing–course includes how to hand jam, fist jam, foot jam and more!
When: Saturday, July 21 @ 9-12
Location: Metcalfe Rock @ Burglass 5.7
Cost: $30/person (4 spaces available)
Safe Rappelling with Mark Toma: 1 spot left
Learn how to safely rappel over the edge of a cliff, and the back ups necessary.
When: Saturday July 21 @ 9-12
Location: Metcalfe Rock @ Guide Wall
Cost: $30/person (6 spaces available)
Self Reliant Sport Climber with OTR Guide Steve Andrew: 1 spot left
Looking to take your sport climbing to the next level? Learn how to safely bail, stick clip and more….
When: Saturday, July 21 @ 1-4
Cost: $30/person
Pre-requisites: Must have outdoor sport experience
Fall Safe with OTR Guide Steve Andrew: FULL
Learn to confidently take and catch lead falls outdoors while considering different hazards, weight differences and adjusting a belay accordingly. Learn how to face your fear of falling and develop confidence on lead.
When: Saturday, July 21 @ 9-12
Cost: $30/person
Pre-requisites: Must have outdoor sport experience
Climbing on Real Rock! FULL
Tools and techniques for finding and using footholds outdoors to climb hard…easier.
Where is the pink hold? As cool as coloured holds are in a climbing gym, they can create a dependence to looking for something that stands out. Outdoor climbing as you know is very different, finding subtle edges or smears is the name of the game on real rock and carefully weighting foot placements makes the difference between getting to the top or having to lower without success. This 3 hour clinic will develop your ability to see subtle footholds outdoors as well as cover approaches to using your body as a tool to get the most out of your foot placements. This clinic is open to almost all climbing abilities, it is has been designed to help climbers who are climbing a minimum grade of 5.9 indoors and have climbed outside at least a handful of times.
Requisites: Participants are required to own and bring their climbing equipment: Climbing harness, climbing shoes, chalk bag (with lots of chalk) and helmet.
Contact: Now full. Please email info@markHsmith.ca to register. Spaces are very limited and will be given on a first come first serve basis. Please provide, Name, Age, Years climbing, Climbing ability (experience outdoors and indoors, hardest grade climbed without falling), Injuries(if any), allergies(if any) and any other information you would like to share regarding attendance to this clinic.
Where: Devil's Glen Climbing Area(directions will be provided to successfully registered participants)
Clinic 1: Saturday July 21 2018 11am – 2pm (6 Spots)
Clinic 2: Sunday July 22 2018 11am – 2pm (6 Spots)
Cost: Minimum $30 donation to the OAC (please email info@markHsmith.ca for further details)
Rappelling Off Sport Climbs, Self-Rescue on Rappel, Top Rope Anchors
by One Axe Pursuits
ONE AXE PURSUITS has been in operation for 17 years and offers the
largest variety of climbing courses in Ontario. New to outdoor climbing?
Want to set up your own top rope climbs? Moving on to Trad climbing or
multi-pitch? Venturing to the ice or snow capped mountains? ONE AXE has
the courses you need to do it safely.
We will be running three different programs:
Rappelling off Sport Climbs
Many sport climbing locations require sport climbers to rappel off the
finish anchors. This transition can be scary and dangerous without the
proper knowledge or equipment. Join us for this hands-on clinic that
will have you practicing several safe ways to rappel off your sport
climbs and backing up your rappel.
When: Saturday, July 21 @ 9-12
Location: Metcalfe Rock
Cost: $30 + HST / person (4 spaces available)
Self-rescue Techniques for Rappelling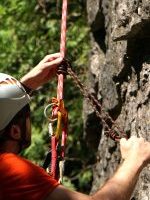 Many climbing accidents have happened on rappel. With the right
knowledge, many of these accidents can be turned into a minor
inconvenience. In this hands-on course, you will practice escaping from
hair pulled into rappel device, ascending techniques, transferring from
rappelling to ascending, load transfers and rappel safety tips.
When: Saturday July 21 @ 1-4
Location: Metcalfe Rock
Cost: $30 + HST /person (6 spaces available)
Top Rope Anchors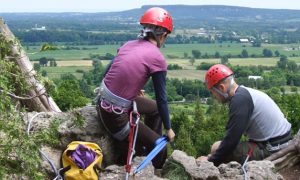 This clinic will cover the foundational skills used for setting up safe
top rope anchors. Learn how to use trees, rocks or bolts for anchors,
equalizing anchors, and tying essential climbing knots. We will also
cover the proper use of safety lines for working at the edge and the
basics of how to safely rappel off your top rope.
When: Sunday, July 22 @ 9-12
Location: Metcalfe Rock
Cost: $30 + HST /person
Maximum 6 people per class.
Contact ONE AXE Pursuits directly to register – info@oneaxepursuits.com or (519) 846-8888.