Beaver Valley Climbing Festival 2018
Festival Grounds, In the heart of the Beaver Valley
The festival is going to take place at the lovely Dogsled Farms in Rob Roy. Rob Roy is centrally located close to Metcalfe Rock, The Swamp, Devils Glen, and Old Baldy, where festival competitions and clinics will take place. The festival grounds in Rob Roy are where we will mingle, browse vendor booths, listen to great music, partake in a variety of games and comps, eat tasty food, sit by the fire, dance, party, camp and have a blast with all of the wonderful rock climbers in Ontario!
Food will be provided by The Flying Chestnut, a famous restaurant near Old Baldy in Eugenia Falls, Ontario and will cater to gluten free, vegans, vegetarians and meat lovers! Their famous chef makes incredible food using the highest quality ingredients and local as much as possible.
For music we have the incredibly talented Mike Moore with Whisky River and Ariana Gilles on guitar and voice.
For more information about the camping, food, and anything else, contact: bvcf@ontarioallianceofclimbers.ca
The Rock Climbing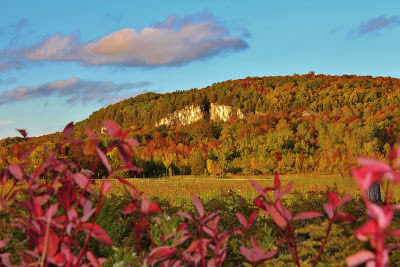 Metcalfe Rock is a beautiful cliff situated in the Kolapore Uplands. Metcalfe offers a wide variety of climbing from 5.4-5.13, top roping, traditional climbing, mixed routes and sport climbing.
But Metcalfe isn't the only climbing destination in the Beaver Valley. Within a 25 minute drive you can also access amazing crags like the beautifully exposed Old Baldy near Kimberly and Devils Glen near Singhampton. And always practice Leave No Trace while climbing, respect these sensitive areas that we are fortunate to be able to climb at.
Directions from Singhampton City Center to Rob Roy
From Singhampton drive north 5km
Turn Left (west) on County Road 31
Drive 5.2km
Farm is on left (south); signage will be visible beside the entrance.
Please note that Google Maps drops the pin a bit further down the road than the actual location (shown in image below with Rob Roy Farm circled in red).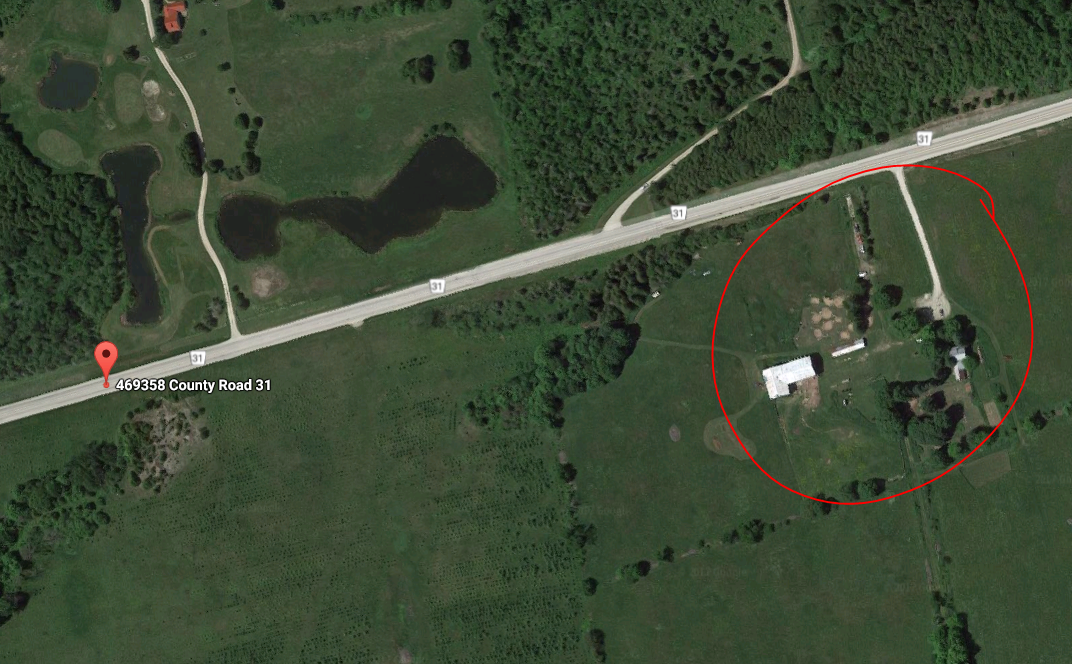 Our Emcee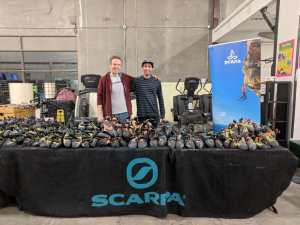 Mark Smith's love for the Ontario climbing community can be seen any time he speaks about Ontario climbing. His passion, enthusiasm and constant smile convert travelling climbers and non-climbers alike into understanding how good Ontario climbing and our community really is. Mark's experience in climbing, teaching climbers and public speaking provide him with a wide set of skills to provide an emcee experience you'll hopefully enjoy and have trouble forgetting….in a good way 🙂
Unofficially awarded at last years climbing festival as the most enthusiastic raffle number caller in the history of the festival. Mark has been practicing day and night since last year's event to double down his efforts and provide an even higher level of enthusiasm, humor and good times to complement this year's climbing festival.
The Yoga
Come join us on Saturday morning at 8:00AM and Saturday afternoon at 4:30 PM.
Located on the grass of the campground area. Bring your own yoga mat if you prefer or you're welcome to use the grass.
Instructor:
Rachel Tokayer is a Toronto based yoga teacher that offers an expansive set of skills that produce an experience that will leave you smiling and energized for the day. Her background work as a vocal performer, musician and youth educator are all skillfully integrated into each one of her classes, making the sessions more fun and more effective. Introduced and officially addicted to the climbing world earlier this year, she also understands where climbers feel tight and what they struggle with, allowing her to craft these sessions to address these challenges and release some tension.
When Rachel isn't climbing or teaching yoga, she can be found producing an interactive kids show called The Yoga Musical. She has been teaching for over 5 years in studios, gyms, privately, educational and corporate institutions, as well as kids yoga in schools. She is excited to support the BVCF and offer these morning sessions to start off your action packed days the best way possible!
The Music
We are so thrilled to be having some amazing live music planned for Beaver Valley Climbing Festival again! There's no better way to cap off a day of sending, than by jamming out to performances Ariana Gillis. Come for the climbs, stay for the show!
What to Bring
In addition to climbing gear, ensure that you are fully prepared for a weekend of festivities with the following:
Camping gear (tent, sleeping bag, sleeping pads)
Food (we supply Saturday dinner, but you'll need to come prepared for all other meals)
Water bottles (we'll have a water refill station, but you should bring your own bottles to fill up)
Dishes & utensils (bring your own reusable plates and cutlery, and get a free raffle ticket!)
Camp chairs
Weather appropriate attire
Sunscreen, bug spray
Cash for raffle tickets