Join us to celebrate Ontario climbing at the 5th annual Beaver Valley Climbing Festival (BVCF) on July 14-16!
Register Clinics Sponsors More Info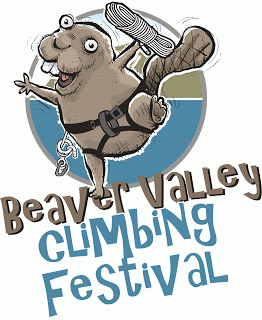 Once again, all 4 Beaver Valley Crags will be part of the fun. Experienced climber? Meet other climbers and potential climbing partners, and enjoy the food and entertainment. Never been to Devil's Glen, Old Baldy, Metcalfe or The Swamp? Here is your chance to visit! Each cliff will have an on-site greeter to answer your questions. Clinics will also be offered at all four crags.
Your $46 festival ticket includes Friday night camping, Saturday dinner and evening festivities, Saturday night camping and Sunday morning breakfast. Saturday dinner and evening festivities start at 4:30 p.m. at the Rob Roy Dog Farm. Morning and evening yoga classes are included in the ticket as well. You can also sign up for clinics (additional fees) for a variety of skill levels.
Registration will start at 8:30 a.m. on the farm on Saturday. Those taking advantage of Friday night camping will just check in with one of our reps.
The 5th annual Beaver Valley Climbing Festival is brought to you by our headline sponsors Boulderz Climbing Centre, True North Climbing, and Arc'teryx. Our title sponsors are Climber's Rock and Junction Climbing. Major Sponsors include Free Spirit Tours, The Alpine Club of Canada, On The Rocks Climbing, One Axe Pursuits, Ontario Resoles, and Overhang Adventures. There will be prizes up for grabs from many climbing industry leaders.
As always, all festival proceeds help support the OAC's efforts in securing and maintaining access to Ontario Crags, to help you send your projects.
Don't miss out! Come out and meet, play and party! Register now!
Media Coverage
The OAC has partnered with Red Tent Media to document all of the awesome activities and friends at the Beaver Valley Climbing Festival this year. Red Tent is a video and design production house specializing in visual media for the Canadian outdoor community. They're helping us to capture and share this event to connect and grow the Southern Ontario climbing community.

The OAC and Red Tent Media reserve the right to use any photographs, recordings and videos taken in association with and during the festival (07/14/17 – 07/16/17) without the express written permission of those included within the photograph, recording or video (collectively, the "Materials"). Materials may be used in publications or other media formats produced, used or contracted by OAC and Red Tent Media including, but not limited to: website photography or videos, magazines, television, advertising material, etc.
Any individual that would prefer not to be photographed, their likeness used in a video or distributed in any way (or that of their children), must contact OAC or Red Tent Media with this request and a photograph. The photograph will be used for identification purposes only and will be held in confidence by OAC and Red Tent Media.
Red Tent Contact: info@redtentmedia.com
OAC Contact: info@ontarioaccesscoalition.com