Join us to celebrate Ontario climbing at the 5th annual Beaver Valley Climbing Festival (BVCF) on July 14-16!
BVCF Home Register Clinics Sponsors More Info
This page includes everything else you would want to know about the festival – from how to get there to the silent auction sponsored by Arc'teryx. Select a subtitle to read more.
> Festival Grounds, In the heart of the Beaver Valley
The festival is going to take place at the lovely Dogsled Farms in Rob Roy. Rob Roy is centrally located close to Metcalfe Rock, The Swamp, Devils Glen, and Old Baldy, where festival competitions and clinics will take place. The festival grounds in Rob Roy are where we will mingle, browse vendor booths, listen to great music, partake in a variety of games and comps, eat tasty food, sit by the fire, dance, party, camp and have a blast with all of the wonderful rock climbers in Ontario!
Food will be provided by The Flying Chestnut, a famous restaurant near Old Baldy in Eugenia Falls, Ontario and will cater to gluten free, vegans, vegetarians and meat lovers! Their famous chef makes incredible food using the highest quality ingredients and local as much as possible.
For music we have the incredibly talented Mike Moore with Whisky River and Ariana Gilles on guitar and voice.
For more information about the camping, food, and anything else, contact: bvcf@ontarioaccesscoalition.com

> Directions from Singhampton City Center to Rob Roy
From Singhampton drive north 5km
Turn Left (west) on County Road 31
Drive 5.2km
Farm is on left (south); signage will be visible beside the entrance.
Please note that Google Maps drops the pin a bit further down the road than the actual location (shown in image below with Rob Roy Farm circled in red).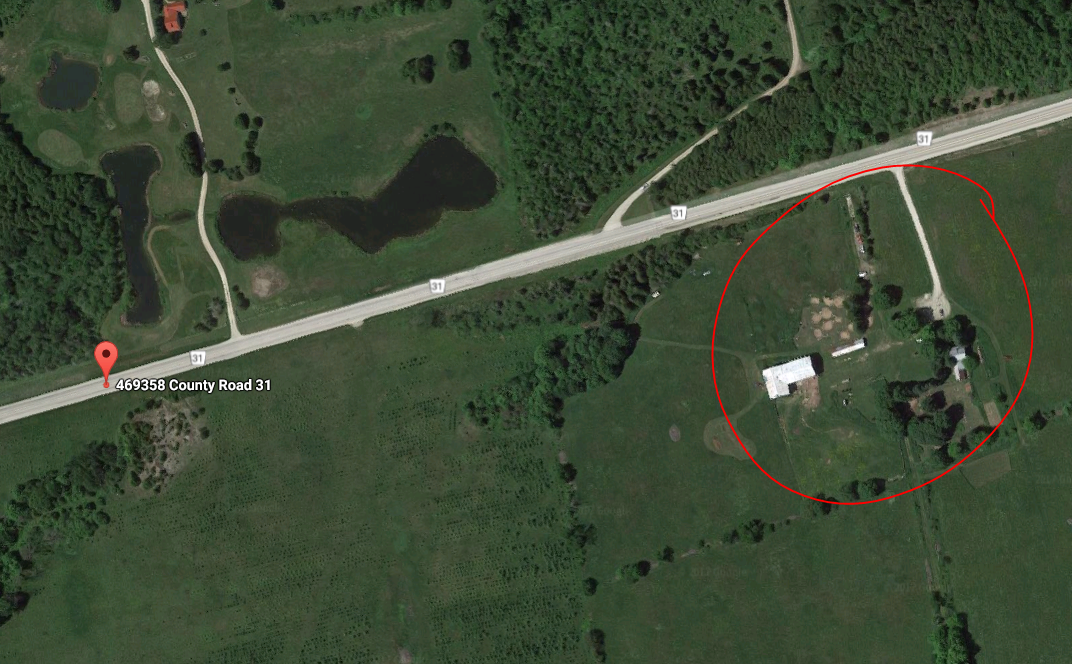 > The Rock Climbing
Metcalfe Rock is a beautiful cliff situated in the Kolapore Uplands. Metcalfe offers a wide variety of climbing from 5.4-5.13, top roping, traditional climbing, mixed routes and sport climbing.
But Metcalfe isn't the only climbing destination in the Beaver Valley. Within a 25 minute drive you can also access amazing crags like the beautifully exposed Old Baldy near Kimberly and Devils Glen near Singhampton. And always practice Leave No Trace while climbing, respect these sensitive areas that we are fortunate to be able to climb at.
> The Yoga
Climber wake up and get energized morning sessions Saturday July 15th and Sunday July 16th at 7:30am – 8:30am
Located on the grass of the campground area. Bring your own yoga mat if you prefer or you're welcome to use the grass
Instructor:
Rachel Tokayer is a Toronto based yoga teacher that offers an expansive set of skills that produce an experience that will leave you smiling and energized for the day. Her background work as a vocal performer, musician and youth educator are all skillfully integrated into each one of her classes, making the sessions more fun and more effective. Introduced and officially addicted to the climbing world earlier this year, she also understands where climbers feel tight and what they struggle with, allowing her to craft these sessions to address these challenges and release some tension.
When Rachel isn't climbing or teaching yoga, she can be found producing an interactive kids show called The Yoga Musical. She has been teaching for over 5 years in studios, gyms, privately, educational and corporate institutions, as well as kids yoga in schools. She is excited to support the BVCF and offer these morning sessions to start off your action packed days the best way possible!
Arc'teryx presents – Yoga for climbers – Climber cool down and rehabilitation yoga session 5:30pm – 6:30pm Saturday July 15th
Instructors:
Sikin Samji is an experienced yoga teacher whose practice includes teaching to private clients, as well as from the reputable YYoga Queen St. West location. She has been leading our Yoga For Climbers sessions since they began at our Queen St. location over a year ago. Sikin brings a wealth of yoga knowledge to her practice, and her teaching is informed by her own practical experience climbing, hiking, and as an active outdoor enthusiast! Follow @urbanyogi_06 on twitter and instagram.
Greg More is the invaluable other half of the Arcteryx Toronto Yoga For Climbers team. Greg's practice is deeply informed by his passion for climbing, and he is skilled at teaching a range of different skill levels and abilities. Greg brings a very thoughtful and professional approach to his teaching that incorporates an astute awareness of the practice of yoga as it relates to climbing. Greg also teaches at Downward Dog Studio in Toronto.

> The Raffle
Thanks to the support of twenty prize sponsors, the BVCF will be hosting a raffle. Tickets will be sold for a post-dinner prize draw. Prizes include, but are not limited to:
Sterling Rope
3 t-shirts
2 Chain Reaction Personal anchor system
1 6mm autoblock
1 6.8mm hollowblock
Prana
4 Chalk Bags
3 hats
1 large chalk pot
Black Diamond
1 large t-shirt
Posiwire quickpack 6 quick draws
3 hats
1 superchute rope bag
Friction Labs
3 gorilla grip chalk,
3 unicorn dust chalk
3 Bam bam chalk
Petzl
2 GriGris,
2 Tikka Headlamps
La Sportiva
2 climbing and trail running shoes gift certificates
Swag: beer koozies, pens, sunglasses and more
Ontario climbing
5 sets of Vol 1 and Vol 2 of the Ontario Climbing guidebook
Organic
2 gift certificates for a Roll Down Pack
…and much more!
> The Silent Auction
This year's BVCF will offer a silent auction generously supported by Arc'teryx. The Arc'teryx items will be on display at the Farm starting Saturday morning. All proceeds from the auction go to directly supporting the Ontario Access Coalition and efforts to maintain access to rock climbing for all.