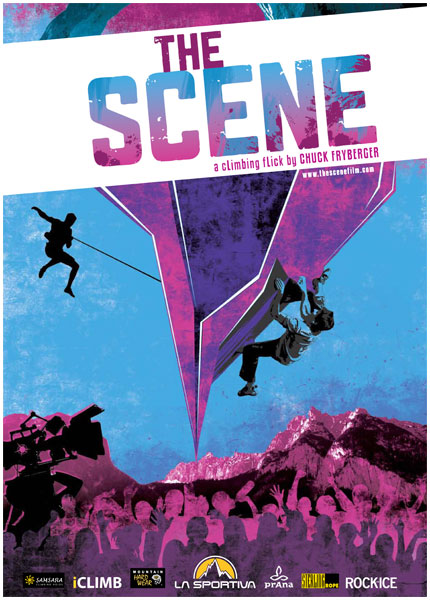 From the director of PURE and CORE, Chuck Fryberger, get ready to infiltrate four of the biggest scenes in the world of climbing.
The Ontario Access Coalition is happy to bring The Scene to Ontario! Tuesday, October 25, 7pm. Showing at "The National Film Board" 150 John Street, Toronto (walking distance from MEC Toronto: http://g.co/maps/345ru ). Tickets available at the door only – $10 for OAC members, $12 for non-members – with DVDs and Blu-Ray to buy after the show.
Filmed in stunning 4K Ultra High Definition, get ready for a fast-paced ride through the centers of the climbing universe. Check out the preview here: http://www.TheSceneFilm.com .
Areas featured:
Moab, Utah –  a mellow desert town surrounded by massive sandstone towers, where climbers test the limits of danger while still maintaining a strict traditional ethic.
Boulder, Colorado: the undisputed social hub of US climbing, with sponsored athletes of every discipline living in a city packed-full of talent, competition, and progressive ideas.
Innsbruck, Austria: with possibly the highest concentration of talent in the world, the competition climbers here fight not only for the tops of podiums, but also corporate sponsorships and mainstream success.
Catalunya, Spain: with near-limitless potential, Northern Spain has claimed the title of sport climbing capital of the world, and is now home to climbing's largest population of elite sport climbers.
Featuring: Chris Sharma, Steph Davis, Nalle Hukkataival, Rob Pizem, Dave Graham, Matt Wilder, Pat Goodman, Dani Andrada, Anna Stohr, Alex Johnson, Kilian Fischhuber, Cody Roth, Much Mayr, Ramon Julian, Paxti Usobiaga, and Daila Ojeda.