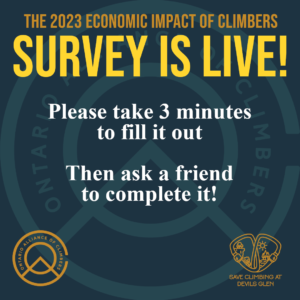 The 2023 Economic Impact of Climbers in Ontario survey was live until May 31. Thanks to the 1645 people who responded! We're looking to better understand the impact of climbers on the local economy.
Click here to fill it out now!
✅ It will take only 3 minutes to complete.
✅ Share the link with friends, get everyone you know who's climbed in Ontario to fill it out!
✅ Survey closes Wednesday May 31. Once closed, we'll share the results.
More to come, this is just the start. We'll still need your help in the coming weeks!