The Ontario Access Coalition is thrilled to announce that climbing at Cape Croker has been re-opened effective immediately!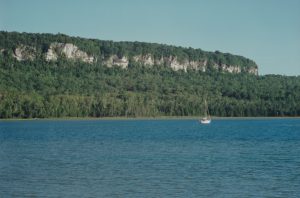 Access to the cliffs at Cape Croker is through the property of the Chippewas of Nawash First Nation. As always, climbing on other peoples' lands is a privilege, not a right. Please be on your best behaviour. In particular, tread quietly and lightly, respect the OAC Code of Ethics, and adhere to Leave No Trace principles. This will help preserve access for future generations.
If you need overnight accommodation in the area, consider camping at Cape Croker Park, which is owned and operated by the Chipppewas.
Many thanks are due to Dr. Harry Hoediono, who negotiated on behalf of the OAC. We would also like to thank Gus Alexandropoulos for his generous offer of a free full-page ad for Cape Croker Park in his upcoming Volume 2 guidebook, which was instrumental in getting Croker re-opened.