Halfway Log Dump- site hosts 2012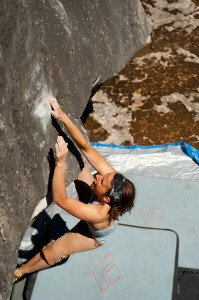 Another great season of bouldering at Halfway Log Dump is here. So many people are asking how they can help the OAC keep crags open – well, this is your chance to help!
The OAC and Bruce Peninsula National Park are looking for help from the climbing community in the form of volunteer weekend Site Hosts. Site Hosts, like a Camp host, act as stewards or Caretakers for the area during their time volunteering. The Site Host program was a huge success in 2010 and 2011, so the OAC and the Park are looking again for volunteers for 2012. If you want to help access efforts and become a Site Host for a weekend  click HERE to fill in the volunteer application.
The guide for halfway Log Dump is available for FREE from the OAC. If you download this guide we hope that you will take the time to become an OAC member, or make a donation if you are already a member. Click HERE to download the "2011 HWLD Interpretive bouldering guide" (and guidebook).
What does a Site Host do?
Site hosts act as ambassadors for Halfway Log Dump while they volunteer. They ensure everyone is having a good time, communicate the rules that are in place, point out the endangered Lakeside Daisy, explain bouldering to curious tourists and, of course, know all the beta on every problem.

These honoured volunteers will receive free camping!!! (as available), luxurious pre-paid parking ($11.70 per day), and free volunteer apparel. This is all courtesy of Bruce Peninsula National Park. A thanks to those of you who volunteer from your fellow climbers for stepping up to help out the sport you love!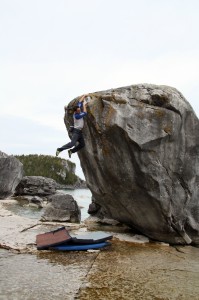 Who makes a good site host?
If you like to boulder outside, can get yourself to the Bruce Peninsula, and are interested in helping access in Ontario, you would be a great site host!
I would like to help, but I have never been to Halfway Log Dump. Can I still volunteer as a site host?
It might be your first visit or your hundred and first visit to Halfway Log Dump. This honour is still open to you. We can tell you what you need to know. It's not hard. You can put it on your resume and land that promotion you've been after.
Yeah, but, if I go there I want to focus on climbing
The time commitment of site host at the boulders is minimal and can easily be incorporated into a regular day at the crag. You will be walking by other boulderers and they will be walking by you. In talking to other boulderers, you may discover that they know something you don't about the latest lines, new beta, local weather, best dining, local plants, or a shortcut home.