OAC Strategic Plan, February 2017
Mission
To secure and protect access to climbing areas in Ontario through outreach, advocacy and stewardship.
The Ontario Alliance of Climbers is a provincial not-for-profit group that works with climbers, landowners, and land managers to secure and protect climbing and bouldering areas, and to promote environmental stewardship. We work with a community of dedicated volunteers who care passionately about rock climbing access.
Vision
Climbers, landowners, land managers, and stakeholders working together with respect and appreciation to enable access to climbing areas for current and future generations to cherish and enjoy.
Goals
Advocate and work with partners for the protection, expansion, and acceptance of access to climbing areas.

Strengthen existing partnerships and create new long-term partnerships with landowners, conservation authorities, property managers, and relevant stakeholders to influence how climbing areas are managed.
Work with land managers to develop land use policies that support climbing access, balancing recreational uses with resource protection.
Work with landowners and managers to develop tools and strategies to mitigate both real and perceived risks of climbing.

Strengthen community engagement and outreach – we all have a stake in protecting access and the integrity of our climbing areas.

Increase engagement with members, volunteers, climbers, business partners, and donors.
Foster a community of volunteers who are champions of the Ontario Access Coalition.
Foster collaboration, inclusion, and capacity building within communities.
Strengthen the culture of trust, respect, and teamwork within the climbing community.
Position the OAC as Ontario's official source for climbing access-related news.

Promote environmental stewardship – we all have a stake in protecting the health of our climbing crags.

Work with land managers to create environmentally-aware climbing-specific policies (including the OAC Code of Ethics) and to incorporate these policies into land management plans.
Be a strong voice for environmental protection and for respecting the environment that we enjoy.
Minimize the environmental footprint at climbing areas by educating climbers and promoting environmentally sensitive practices.
Work with land managers to identify sensitive features (including wildlife and plant species) at local climbing areas and communicate this information to climbers.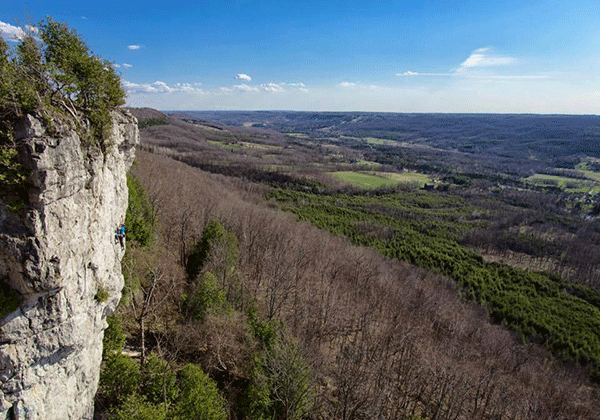 Dennis Barnes on Prowject (5.13a) at Devil's Glen | Mike Penney